We aim to be a 100% carbon-free green leisure space in Preston
The planet is facing a crisis – and Lancashire needs to rise to the challenge. Phoenix Park is focused on transforming the environmental landscape by decarbonising an established landfill site and creating a green space to be enjoyed by the local community. This will be one of the first green leisure facilities in the UK.
Explore the future of

Phoenix Park
Our continued focus is the preservation and expansion of Preston's green space. Building on the established landfill site, we hope to achieve a sophisticated leisure park, which will be 100% carbon-free, running on renewable energy and technology, with a number of activities available for the local community - and beyond. See more about our vision for the park below.
01
Enrol on the Phoenix Recycling Programme (PRP) and drop off your recycling at the collection point. After reaching your pre-set target, gain points to access the Park's leisure facilities … for FREE!
02
Just one of the many popular leisure facilities on the Park, go-Karting is proven to inspire the formula one drivers of the future. Come test-drive our outdoor tarmac track, complete with bends, turns and hills driving against the clock to the finish line.
03
The Centre will provide the hub for the onsite specialist care and education activities for looked after young people. It will also host school visits for mainstream children to come and learn about carbon reduction and the renewable energy used to power Phoenix Park.
04
Purpose built AstroTurf sports pitches for football, rugby and hockey along with a skate and scooter park with loads of features including flow bowl, ramps and back and forth runs on a concrete base.
05
Situated outdoors, Wave Phoenix has waves suitable for everyone who wants to experience an inland surfing experience.
06
A purpose-built mountain bike slope with pump tracks, jumps and slopestyle biking. Come ride our track where you can ride your bike hard, practice throwing the bike into turns, jumps and tricks or racing your mates to the finish.
07
Our nationally recognised pro motocross (MX) track. Motocross bikes are currently predominantly petrol driven. TRAX MX intends to begin to pioneer electric bikes and be at the front of the evolution from petrol to electric equivalents.
08
Accessed by a button ski lift, the artificial open-air slope mimics snow and includes nursery slopes and ramp areas for both skiers and snowboarders of all levels so offering a ski trip for all seasons!
09
Phoenix Park's climbing wall features: a shorter Boulding Wall with crash mats where climbers can 'boulder' without ropes and harnesses; a Top Lead Wall section (6-20 meters) featuring a range of angles and challenges for more experienced climbers; and a static wall (6-15 meters) on a galvanised steel frame with fibre-glass panels.
10
Our low and high course will be for climbers of all ages and abilities from our range of low wobbly obstacles testing balance and confidence to the 8 meter platform where climbers can adventure across moving tyres and other objects, wobbly bridges and rope swings to reach the pinnacle … the zip wire and abseil.
11
Learn to kneeboard, water-ski or wakeboard. For those new to wakeboarding, kneeboarding is for beginners is fun and the easiest way to learn to wakeboard. When you progress to wakeboarding riders experience the true adrenaline rush of our cable park. The park has plenty of features and obstacles to test the more experienced wakeboarder.
12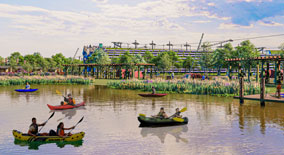 Phoenix Park offers taster lessons and beginners courses for wind surfing, canoeing and kayaking, as well as stand up paddle boarding on our beautiful manmade lake surrounded by trees and wildlife with no tides, currents or waves to contend with … just the local wild and birdlife.
13
The Ribble Steam Railway now extends through Phoenix Park along the River Ribble to Savick Brook. The railway is a standard gauge preserved railway. On event days a visit to the museum can be combined with a ride on a steam locomotive along the River Ribble. All bookings via Ribble Steam Railway and Museum www.ribblesteam.org.uk.
14
For those on the Coastal Access Walk along the River Ribble, there is a pedestrian bridge crossing the Savick Brook to enable walkers to continue down, or up, the Estuary. Visitors to the Park can also cross the brook to picnic on the other side before returning to the Park for their afternoon activities. BUT … remember to bring your rubbish back with you!