Our Vision
With 70 acres of long-established landfill site to regenerate and green space to conserve, and expand, our vision for Phoenix Park will continuously evolve. What will remain a constant  is the creation of a unique green space, designed for the benefit and enjoyment of the local community – and beyond.
Our friendly team are on hand to answer any questions you may have so don't hesitate to get in touch with us.
Connecting communities, improving employment, and engaging in education
Phoenix Park will engage with a variety of groups, businesses, and services, both locally and nationally, in particular, young people in education. At the heart of our vision is to become a carbon-free green space, utilising renewable energy.
The park will offer:
• A host of exciting outdoor leisure activities through regeneration, including the existing motocross track
• A specialist education provision for hard to reach young people through Pioneer TEC
• The formation of a CIC company and opportunities for investment
• Job creation and opportunities to develop skills
• The Phoenix Recycling Project (PRP)
This is not just the regeneration of previously contaminated land in Preston; it is the development of an exciting community leisure base; it is encouraging recycling; it is supplying a specialist education provision for young people most in need; and it is creating a safe, green space for all.
An exciting, carbon-free green space on the Ribble
Powered by the sun, wind, and recyclables, Phoenix Park, on the banks of the River Ribble in Preston, Lancashire, has the aim of becoming 100% carbon-free during its development. A comprehensive recycling programme called the Phoenix Recycling Project will provide the local community with collection and drop-off points for their waste – as well as powering the park.
The Phoenix Plan
Phoenix Park will address a number of issues affecting communities, not just locally, but across the world, including:
• Carbon reduction and renewable technology
• The need for improved recycling
•  Education and training for young people, especially the most hard to reach
• Quality residential and educational support for looked after children reaching the transition point into independence
• Job creation and improved skills, including life skills
• Health – physical and mental well-being
• Regeneration of contaminated open space for the benefit of the community
• Access to leisure and sport for all
Leisure, sport & tourism Phoenix Park will be a green space to be enjoyed by all, with numerous activities, including motocross and electric motorbike tracks, water sports, cycling, high ropes,  dry slope skiing and so much more.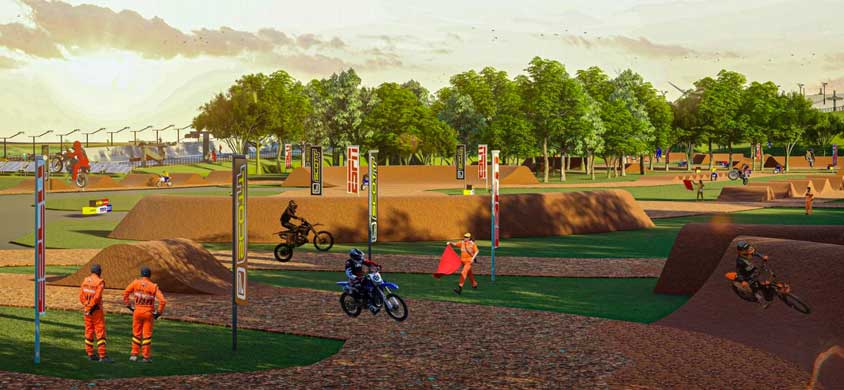 Education, training & employment Pioneer TEC will provide young people, who are most at risk, with a safe, residential education environment to meet their needs; the opportunity to develop both employment and life skills; and real jobs coupled with support into early adulthood.
Renewable energy & recycling The park aims to produce its own energy from solar and wind, and bring communities, particularly young people and leisure users, together through a robust recycling scheme.
Community and environment are integral parts of the Phoenix offer. They have informed the vision behind the development. The continued conservation and expansion of this green space will provide generations to come with a fantastic leisure facility and an inclusive educational environment.